Target Reading Time: 3 Mins 10 Secs
Want to succeed this decade? Don't do it alone.
But first - it's almost time for a new decade friends.
What better time to set new intentions, make plans for the long term, and of course, re-think the relationship you have with your brain - by putting your #brainfirst.
We officially go into our 'public beta' on Jan 6th, which means no more passcode or discounts - making this your penultimate week to order yourself some brain food and look after the most important organ in your body (at a bargain price), giving you one less thing to think about.
So, if optimising your brain's health for a new decade is on your priority list, read on 'til the end (though I like to believe you always do) for one more hidden gem.
Let's get on with it...
Do you have a habit of setting goals, getting super excited about them and then just casually letting them slip away until you forget about them completely?
...Sounds familiar.
If you want to just bloody follow through, the answer is pretty simple.
Tell someone.
Seriously, it's that easy.
In a study by the Dominican University of California, participants aged between 23-72 were assessed on their goal habits at work. These were people from all over the world, in a wide range of businesses and networking groups.
Get this though, of the people who sent weekly updates to a friend - 70% of them succeeded in their goal-setting, compared to a 35% success rate in those who kept their goals to themselves.
The study also showed upswings in achievement among people who wrote their goals down and made commitments to specific action steps to help them get there.
So, the main takeaway here: if you're going to set goals, at the very least tell someone about it. But, if you want to do a proper thorough job - here's how:
Set SMART goals, people
I'm not a huge acronym fan unless they're hip-hop based. But, SMART just works so well for this one - so I'll go with it.
Specific - Fairly self-explanatory, but basically this involves getting to the root of what you actually want. So, instead of a vague "lose weight"- give yourself an amount, item of clothing you want to fit in to, or a feeling you want to have instead.
Measurable - Define how you'll know you've succeeded. Is it a simple yes or no? Or do you need a different way to qualify it?
However you choose to measure your success, make sure it reflects the way you've structured your goal.
Actionable - These are the steps you'll take on the path to reach your goal. Consider if you have all the resources you need or equipment necessary.
If you end up with loads of action steps - it's maybe worth breaking your goal down into smaller, more achievable goals. (Plus, when you smash each one, you'll get a bonus hit of endorphins).
Relevant - It's really common to have too many goals on the go at the same time, or to end up putting too much energy into the wrong goals.
Find out by comparing the amount of effort you're going to need to put into your goal, versus how much value it's going to bring you. Ideally - low effort, high value is the sweet spot for most goals
Time-Bound - By giving yourself a time-frame, you can make an action plan to complete each step so you know if you're on track - or, if you need to re-plan a bit.
Being smart about your goal-setting is a good way to avoid trapping yourself in constant pursuit of perfection, or ending up in procrastination hell.
But, it's also worth a mention that goals are for life, not just for January - and making goal-setting a constant practice in your life is an awesome way to win big, and get shit done.
You might have even noticed a goal-setting section in the booklet that comes with your Heights subscription of brain food…
Think fast (your 10 second snippet of science to impress your next meeting/party guests/Uber driver): I'm trying to (insert goal here). Now I've told you that, I'm 70% more likely to do it. Thanks!
Millet and Kale Sauté with Dried Fruit and Hazelnuts
This sort of warm salad combo is essentially a staple in my house, as you can chop and change it depending on what odds and ends you've got lying around. I don't eat meat, so no bacon for me - but a good combo I like instead is mushrooms dressed in tamari, which gives you that same salty goodness. Thanks @thedaleyplate!
Kale, bacon, sweet dried apricots and peaches combined with wholesome millet is hearty enough to stand on it's own as an easy weeknight dinner. Cook the millet on a Sunday to save on prep time during the week and add any vegetables lingering in the fridge drawer to bulk it up or personalize it to suit your tastes. I love sweet and salty combinations!
- Dale
Why is it good for my brain?
Kale is just the nutritional bomb isn't it? Alongside being pretty high protein for a leafy green, it's chocka with iron, folate, and vitamin B6 - all needed to make serotonin and dopamine which regulate mood. Hazelnuts and gluten-free grain, millet, are both stellar sources of magnesium - which helps with sleep, muscle recovery and can reduce migraines.
If you're iffy about this whole goal thing, I'll leave it to Denzel Washington to sort you out with an inspiring speech about his own journey, and the power of setting goals to achieve your dreams. (YouTube)
When it comes to clear goals, who better to read about than Greta Thunburg - whose dogged pursuit to inspire action for climate change is nothing short of heroic. (New Yorker)
Jim Kwik shares his trademark fast-paced advice to learn faster and achieve more in this interview with Olympian, Dr Jeff Spencer. He shares some high-performing light on the subject of goals, from a true pro. (spotify)
@thismuchiknow.news for an everyday digestible round up of the headlines from around the world (plus some fun stuff), straight into your insta stories

.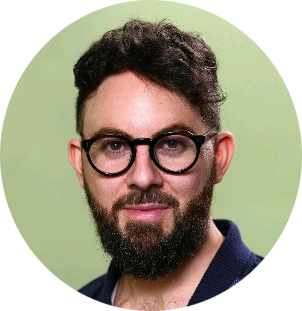 My SMART goal for 2020 is to help 10,000 people put their brain first by making Heights their first brilliant idea of the day.
Sadly, the idea of 'brain health' - which involves prevention and performance is not as well known as 'mental health', which is more commonly associated with looking for a cure, after experiencing a problem.
As many of you know by now - that's how my own journey to 'neurological nourishment' began, when nothing I did for my mental health cured either my insomnia and anxiety. It was changing my diet and taking specific supplements that made a big impact.
What's important with SMART goals is to make sure they are 'R'ealistic above all else. Trying to make the idea of putting our #brainfirst a priority is going to take time - and we're going to need all the help we can get, from people just like you folks.
So, to wrap this up, if you want to be one of the last remaining people on earth who can say 'I was prioritising my brain's health with Heights before they even launched' then here's our gift to you;
25% off every month, for as long as you stay a customer with the code "brainfirst" (enter on the buy button & again at checkout).
As a bonus, you'll receive a free annual goal planner made in conjunction with Dr. Tara Swart and Dr. Rangan Chatterjee that will help you reach your Heights (it takes 1 - 2 hours to do, and should be completed with a loved one but could have a huge impact on your future success). It's worth it.
See you next week, year, and decade, people.
Stay SMART.
Dan ❤️